Banana & Plum Baby Porridge
Our organic baby porridge flavoured with banana and plum flakes is the perfect next step when you and your little one are ready to move on to new textures at breakfast time.

There are small crispy pieces and tiny plum chunks for them to explore and enjoy, creating a softly chewable texture. With no added sugar, artificial flavours or sweeteners, the banana and plum provide all the flavour in this dairy free baby porridge mix. Simply mix with your baby's usual milk for a reassuring taste they'll love!

Suitable for 7+ months.
I'm organic.
No added salt or sugar.
No artificial colours or flavours.
Suitable for vegetarians and vegans.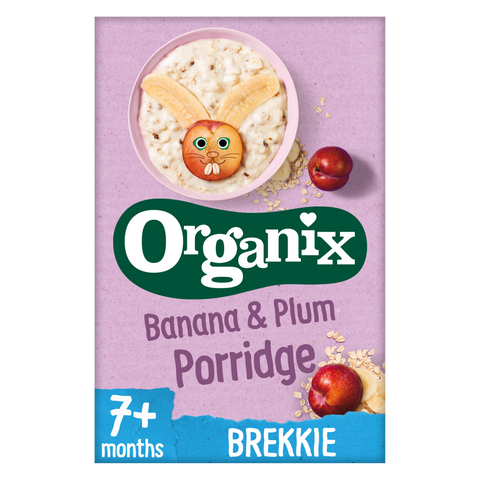 Approx 9 portions per pack
Safety advice
For little ones, please ensure they are sitting down and supervised whilst enjoying this food.
No Junk &amp that's a promise
At the heart of our mission is our 'No Junk Promise'. A pledge to you, letting you know precisely what is and isn't in our food. We promise to be always organic – no added salt – no artificial colours or flavours – that's our promise!