Melty Veggie Sticks Multipack
Our melty veggie sticks are made with organic corn puffs, flavourited with veggies. They make the perfect baby finger food and toddler snack.
We only use organic corn in our veggie sticks which is gently baked into chunky shapes that are easy to grab, hold and happily munch, perfectly sized for little fingers. They melt in the mouth too. All we add for flavour is veggies on to every one.
Suitable from 7+ months. I'm organic. Gluten free. Baked not fried. No added salt or sugar. No artificial colours or flavours. Suitable for vegetarians and vegans.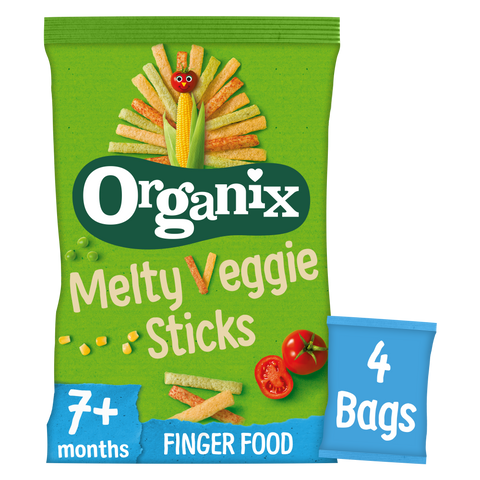 Safety advice
For little ones, please ensure they are sitting down and supervised whilst enjoying this food.
No Junk &amp that's a promise
At the heart of our mission is our 'No Junk Promise'. A pledge to you, letting you know precisely what is and isn't in our food. We promise to be always organic – no added salt – no artificial colours or flavours – that's our promise!