Organix Mini Organic Oat & Banana Flapjack Toddler Snacks Multipack New 2023
Our tasty oat & banana mini flapjacks are packed full of delicious juicy raisins and wholegrain oats and under 100 calories per pack, making them the ideal toddler snack.
The perfect snack for life's little adventures.
                                                                                                                                                                                                                                                                                                                                   Suitable for 12+ months.
I'm organic.
No added salt.
Nothing artificial.
Suitable for vegetarians and vegans.
Perfect for toddlers on the go.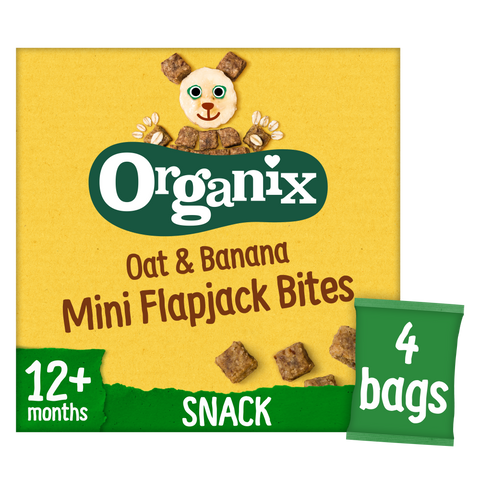 Safety advice
For little ones, please ensure they are sitting down and supervised whilst enjoying this food.
No Junk &amp that's a promise
At the heart of our mission is our 'No Junk Promise'. A pledge to you, letting you know precisely what is and isn't in our food. We promise to be always organic – no added salt – no artificial colours or flavours – that's our promise!